Articles
Protecting your stock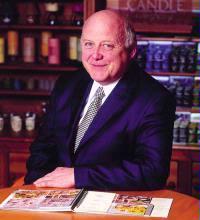 As a retailer your stock is the most important and valuable part of your business. If you are not in the habit of protecting the stock you have then you really need to be. Here, Clive Harper, managing director of Yankee Candle™ Europe reveals his top tips on protecting your stock from shop-lifters, protecting your profits and gives advice on how to utilise product promotions to your advantage.

Theft is something I take very seriously and am often asked to give my personal advice on how to alleviate the problem and ensure stock is protected as much as possible. My first advice is that the biggest deterrent for shoplifters is your team. Being aware of who is entering your store and ensuring they know you are aware of their presence is hugely effective. Eye contact, a bright smile or pleasant greeting is enough to raise staff presence to customers and can also be used to open communication opportunities with the customer which could lead to a sale.

In instances where it isn't possible for staff to cover all areas of a shop floor, consider installing security cameras and/or signs to highlight their existence. Or, if you are not comfortable with this technique, signs which advise the public of a shop's policy to prosecute shop-lifters have proven to be successful deterrents. In a store which clearly takes shop-lifting very seriously, there are proven to be less instances of theft.

Another recommendation is to take a close look at your store layout. Are highly desirable products displayed in a visible location or are they hidden in a quiet corner? By bringing these products into the open, where you can easily see them from the till-point or where they are positioned in front of a security camera, you will reduce the opportunity for a shop-lifter to steal. Ensure these products are clear of exits to reduce temptation for opportunists and to bring customers further into your store in search of desirable brands.

There are many other security measures you can implement to reduce the amount of theft in your store. Give your staff effective training on how to spot a potential shop-lifter, for example by the use of body language or excess clothing and extra large bags; or consider security tags and two-way mirrors.

All in all, the first step to tackling theft head-on is to accept responsibility. Although the shop-lifter is to blame you need to take a step back and really consider which techniques you have in place to deter theft. Remember, the stock shop-lifters steal is the stock they can easily sell on, which means it is stock that is in high demand and which you cannot afford to be without: simply put, you have to protect your assets.

Once you have implemented measures which work for your store, you will begin to see a fall in the amount of stock you are losing and will know that you are doing all you can to protect your investments.

Protecting you stock can open the door for many other sales opportunities. With profit loss through theft reduced, you can afford to run fantastic promotions which are not only an effective way of selling slow moving stock but also of increasing footfall into your shop and even works towards establishing a loyal customer base.

Many brands will offer you promotional opportunities which you can pass onto your customers, for example, a monthly 'buy one get one half price' or a 'product of the month' promotion in which the cost to you is reduced by a set percentage. These promotions will see customers returning to your store each month to purchase the new offer and will give you good positioning in the customer's mind at a time when other larger stores are able to offer hugely discounted stock at very early stages of a season.

A seasonal sale is also a good opportunity but the promotion requires careful consideration. The sale needs to be good enough to attract customers into the store, but not so big that it becomes detrimental to profits.

If you are planning a seasonal sale to move slow moving stock you need to consider which products you are discounting, by how much and for how long. A good sale can work to increase profits as, if supported with the correct in store point of sale graphics, advertising and PR activity, you can increase the number of customers coming into your store.

Finally, it is important to clearly set and highlight the limited time scale the sale will run for. You need to generate the impulse purchase and instil in your customers the `buy now because tomorrow it may not be available' frame of mind.

With this advice I hope you will be able to ensure your stock works efficiently and effectively for you. The simple rule to remember is to protect your stock well and to plan your promotions and the results will speak for themselves.

For further information on Yankee Candle™ and advice about reducing theft in store call +44 (0)1454 454 500 or visit the website www.yankeecandle.co.uk.
Date Posted: