Articles
Selling - what works & what doesn't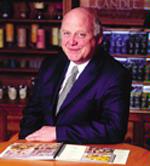 Preparation is key
Whether you are considering opening a retail outlet or looking to improve a long-standing business, be it in a high street location, the heart of a residential village, tourist destination spot or on the world wide web, preparation is key. The six Ps - 'perfect preparation prevents pretty poor performance' - are a good guide to follow. A well established retailer would benefit from regularly taking time out to consider their preparation and presentation, scrutinising their business from the eyes of a customer, standing back and being honest with themselves.

Doing the maths
A good approach is to begin with understanding the money you need to make from your outlet in order to have a viable business. Once you have removed the initial set up costs, wages and utilities, how much money do you need to bring in to have a successful retail outlet?
Does this need to be increased because you are looking at expansion or are you not creating as much as you initially thought?

Selling space
Once you have established this figure, you need to consider how much retail space you need in order to achieve this goal and how you are going to maximise this space. The type of shelving and displays you use are highly important as this will affect how much stock you can physically sell and promote to your customers. You need to utilise all the space you have, so consider if there are any types of displays you don't already use, such as table displays, spinner stands and even counter top displays for add-on sales at the till.

Understanding your brands
Understanding the brands you sell and allocating the correct amount of space to them is key to success. Use your sales information to discover any brands you need to allocate more space to. In some instances by doubling the amount of space you currently dedicate to a successful brand and therefore offering your customers more choice in their favourite products may see you increasing your profits.

Focal points
There are key focal points in every store which generally attract customers' attention over other areas, so keep these in mind when looking at the positioning of products in your outlet. When a customer enters the store they generally turn left. Keep the area where they enter clear as this is the area they use to get comfortable and acclimatise themselves. The right wall is where most of your customers will look and stop first so this should be a key focal point in your store for creative but clear displays and affordable products.

All four corners
You also need to consider how you are going to attract customers to all four corners of your outlet. Is there a particular collection that is not selling well and is this because it is in an area where customers rarely visit. By positioning essential items at the back you will encourage customers to walk all the way through, browsing other products in order to reach the item they initially entered for. You can use displays to create a 'path' and therefore guide customers around the floor, in essence planning where you want them to walk and which products you would like them to stop and view.

The till
By taking an unbiased look at the layout of your store, or by effectively planning before you launch, you can make a huge difference to how customers shop. One consideration to make is the positioning of your till - the most successful position has proven to be on the right of your entrance. This is an area customers generally fail to stop in after they have browsed. By placing your till here you are utilising prime selling points for the important factors - your products!

Once you have considered all these areas, without realising you will have put the six Ps into practice and, if answered honestly and from fresh eyes, you will ensure 'pretty poor performance' is not a factor in your store.

For further information on Yankee Candle® and advice about business success telephone +44 (0)1454 454 500 or visit the website www.yankeecandle.co.uk.
Date Posted: