Articles
Success in your sights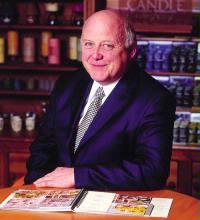 In this series of marketing articles, Clive Harper, managing director of Yankee Candle® Europe has provided an incisive guide to the different strategies for creating a bespoke marketing campaign for your business. In this last instalment, he concludes with some expert words of advice to ensure your plan of action achieves maximum success.

If I was to offer one piece of advice about creating a marketing strategy it would be to plan properly. There are many elements in marketing which all sound exciting to try, such as creating a brochure, advertising, public relations, direct communication with your customers or investing in a new product range, but unless you pre-plan the costs and timescale of each one prior to implementing them, you will be lost and quite possibly out of pocket. The more time you spend on planning your strategy, allocating your budget and devising a timescale to follow, the more effective your marketing will be.

GET READY...
When you plan your marketing strategy, focus on one element at a time so you do not drain resources. So, for example, you may decide to start the year by investing in some new product ranges and emailing your existing customers to tell them about it. As you begin to see the effects of the new product investment and direct marketing on sales you can then focus attention on a new strategy.

TAKE AIM...
You do not have to invest large amounts of money and target customers across the country. In fact, the narrower and more targeted hyour marketing is the more successful it will be. This is why local media, your shop and customer email addresses are the first portals you should use for communication.

FIRE!
Remember to keep your message consistent. Ensure your logo effectively communicates who you are, is easily recognisable, and you have one key message (or strapline) which you can use across many marketing methods. It's important to get the logo and strapline right first time, as consistently changing and rebranding will confuse your customers.

Your customers are your business lifeline, so treat them that way. Rewarding your customers for their purchases and loyalty is a successful technique for winning repeat business. You can offer a percentage off a second purchase, or give a voucher to a customer who brings a friend who also spends with you.

Alongside your own marketing techniques consider ways to encourage other people to advertise your business for you. You can give away a nicely designed car sticker with each purchase or invest in luxurious branded gift bags which your customers will reuse. Approach other businesses in your area with the same target customer as you to see if they will be willing to collaborate. For example, perhaps a hairdresser will exchange fliers with you to place at the till point or a coffee shop will split the cost of a full page advert with you and you can offer an ultimate shopping experience with a free cup of coffee.

The final advice I can offer is to be creative. An unusual approach or brand new concept will capture customers' attention far better than if you simply recreate marketing you've previously seen. Perhaps you can run a competition on a social networking website to design a greeting card, the sale of the winning design in your shop being the prize. Or work with many businesses in your street to create a treasure hunt, the clues for which are released daily in the local paper and each day leads the customers into a different business.

The best thing about marketing is that whether your budget is small, large or nonexistent, with creativity you can always find an avenue to make it work, building on your sales and your success.

For further information on Yankee Candle® and advice about marketing telephone +44 (0)1454 454 500 or visit the website www.yankeecandle.co.uk.
Date Posted: