Sock Academy Ltd
Hexton Manor Stables, Hexton, Herts SG5 3JH
Telephone: 01582 882124
Email: sales@sockacademy.com
Company Profile:
Sock Academy- one company, three great brands!

Thirteen years since it first came up with the distinctly odd idea of selling deliberately non-matching socks, United Oddsocks has launched a range of 'humorous hosiery' under our Cockney Spaniel label plus an adorable baby sock brand: Cucamelon.

We are proud of our creative approach to everyday items and are always developing new ideas and designs in-keeping with the latest trends. Our ability to think outside the box has enabled us to win numerous awards such as FSB Innovative Business of the Year and FSB Overall Business of the Year for Hertfordshire. We have also been shortlisted for Gift of the Year awards 5 years running.

Come and see us at at Harrogate (Stand DP1-C55) and Autumn Fair (Hall 6, Stand H40-J41) to see all our wonderful new products and meet out team!
Product Categories:
Baby/Children, Children's products/games, Christmas products, Design-led gifts, Fashion accessories, General giftware
---
Product Category: Baby/Children
Product Name: The sock puppets
Description: Who said you have to wear socks on your feet? Even our littlest socks are all big characters and they love the chance to get out and play.

But they need help- so can you lend them a hand? Or two? Or six would be better (you may need to borrow some hands for this). Simply turn your favourite socks into crazy puppets and let the find begin...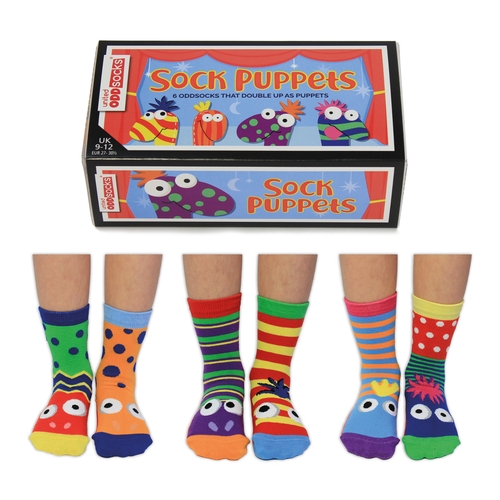 ---
Product Category: Children's products/games
Product Name: Mummy and me
Description: Brand new for cucamelon, a matching pair of socks for you and baby too!
Comes in a womens size 4-8 and baby 0-12 months.

Daddy and me is also avaliable.

---
Product Category: Christmas products
Product Name: Cockney Spaniel Christmas Range
Description: For the perfect light-hearted stocking filler that perfectly compliements the christmas jumper look no further than the Cockney Spaniel christmas range.

Find designs such as 'Silent night! Ban the brussels' and 'i'm sexy and i snow it!'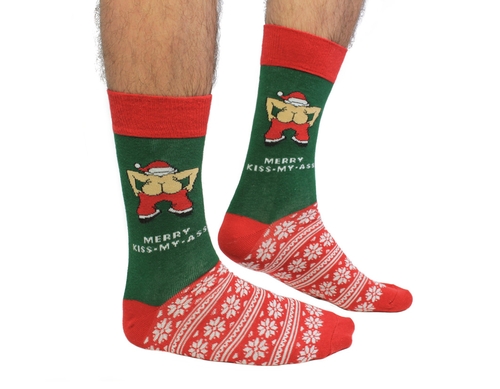 ---
Product Category: Design-led gifts
Product Name: The sock exchange hot shot
Description: Even in these uncertain times our sock exchange portfolio continues to grow and our new Hot shot collection is definitely something you'll want to have a share in.
The classic black top means you can wear these on the most formal occasions and you'll always look like you mean business.
But inside your shoe you've already knocked off for the day and are going a little crazy.
Six mind-boggling designs prove that you're the shape of things to come.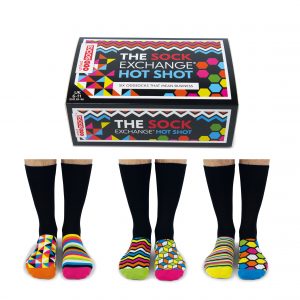 ---
Product Category: Fashion accessories
Product Name: Ellie Austin
Description: Introducing our wonderful new collaboration with designer Ellie Austin. We were inspired by majestic oceans, the warmth of the sun and the fun and colour of the great outdoors.
For people that love to be bold and love life, our beautifully designed collection of oddsocks will help lift your spirits and get your day started with a pop! Pick a colour combination to suit your mood, and glow crazy all day long.
Go on, sparkle like a star!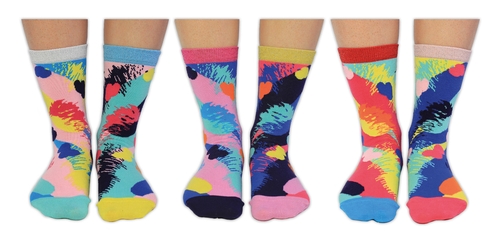 ---
Product Category: General giftware
Product Name: Dino eggs
Description: It's the battle of the big beasts- the mighty Tyrannosaurus Sox takes on the fearsome Tricerasocs! How will it end?

With all the roaring and crashing taking place across six prehistoric designs it could go 15 different ways depending on how you mix them up. One thing's for sure though- it won't be a battle getting any dino-mad kid to put their socks on!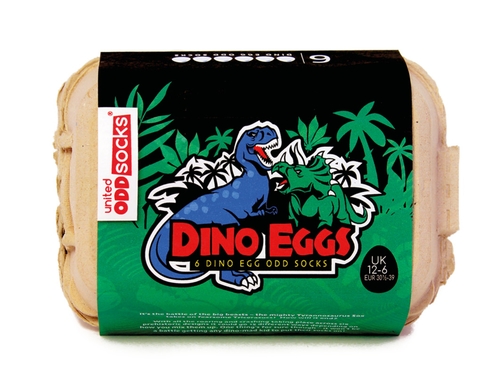 ---