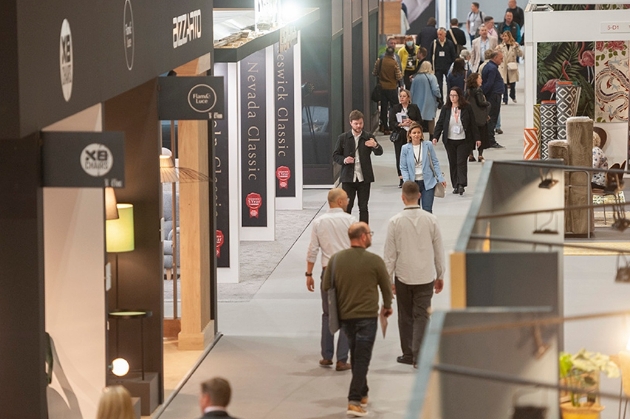 The 2024 edition of the highly anticipated show is introducing a host of new exciting additions which will enhance visitors' experience and sourcing process.

Returning in full force across 4 halls at the NEC Birmingham, JFS will welcome over 400 exhibitors along with over 20,000 of the UK's most important buyers including senior decision makers from key retailers.

Plus, for the 2nd year running the Home Interiors Show will be taking over Hall 2 with the best interior accessories and lighting options. As the UK's largest and premium event dedicated to the furniture, home accessories and the interiors industry, JFS is perfectly placed for buyers at a pivotal time at the start of the year, as they will have the opportunity to curate their new collections for the year ahead.

Standing as an indispensable rendezvous for the industry, buyers from across the UK and beyond can get a first look at the latest furniture pieces and innovative design solutions from the best furniture manufacturers and designers Europe has to offer.

Spanning four expansive halls, visitors will embark on an inspiring journey through contemporary furniture, cutting-edge design concepts, and an array of homewares tailored to diverse retail and customer tastes.

The show will be split in to 4 sectors, which are; Premium Design, Interiors Accessories and Furniture, Living, Dining and Bedroom along with Furniture Upholstery and Beds.

With 1000s of products on display, and exclusive launches from renowned industry brands, this event is an unparalleled opportunity for industry professionals to source the latest products hitting the market.

Visitors will be able to discover new collections from the likes of Ashwood Designs, ALF, Alpha Designs, Alstons, At The Helm/Hydeline, Baker Furniture, Blue Bone Imports, Birlea, Buoyant, Bontempi, Breasley, Furninova, Global Home, Grand Soleil, Hyder Living, IFD, Jaipur Furniture, Kettle Home, Lassic, La-Z-Boy, Malini, Mlily, Premier Housewares, Qualita, Ross Fabrics, Scatterbox, Seconique, Sherborne, Shire Beds, Taylors (Scotland), Tetrad, Vida Living, Vogue Beds, Westbridge, Whitemeadow along with loads more to discover!

The show's international offering continues to grow, with furniture and interior brands from more than 12 countries including Australia, China, Germany, Italy, Sweden and more.

The 2024 show will be bursting with exciting new features along with an enhanced VIP experience. Visitors will be able to enjoy a brand new Festival Food Hall in Hall 2 which will be offering a variety of delicious lunch options in a relaxed setting.

Also Hall 1 will have a beautiful Champagne Bar in the centre of the hall, providing a nice space for easy networking and socialising.

Hall 4 will see the addition of multiple pavilions highlighting brands and designs from Romania, Poland, China and Vietnam along with more.

In addition to this, Hall 4 will also see the return of the Young Furniture Makers Showcase which will give young fresh designers the opportunity to showcase their award winning furniture pieces to the industry.

Visitors will be able to meet the designers and discuss their design process, gaining an insight into their innovative design style and creation. For 2024, VIP visitors will be able to enjoy the show in style with access to the luxurious VIP Suite where they will be able to enjoy a multitude of perks. JFS is reintroducing a 2 course complementary lunch for VIPs along with refreshments throughout the day.

Also VIPs will have access to a free cloakroom and Happy Hour on the 23rd January giving them a great opportunity to connect with other buyers and designers. Visitors and exhibitors will be able to unite and celebrate the industry with the Furniture Awards run by show partner Furniture News.

Magazine editor Paul Farley will present the coveted awards to some of the best brands in the industry across 5 categories covering design, sustainability and more.

The British Furniture Manufacturers Association will also be celebrating their members by hosting their Future of Furniture Awards at the show. Brand new for 2024, the Women in Furniture Network will be hosting their 3rd event on the 22nd January at the show, called the "Speed Networking Spectacle".

Following it's launch this year, the Women in Furniture Network is growing rapidly and bringing women from across the furniture and design industry together in their shared passion not only for the industry but also for building connections and opportunities for collaboration. At the event visitors and exhibitors will be able to join in the fun with speed networking where they will have the opportunity to build meaningful connections in a relaxed, fun atmosphere.

Across the show's four days visitors will be able to take a break from sourcing and learn from industry experts with ACID and FIRA hosting workshops away from the show floor.

Visitors can pick up key industry information and actionable tips that will help their business thrive in the dynamic furniture industry. Portfolio

Director, Zoe Bonser, expressed excitement about the upcoming event: "The 2024 show promises to be one of our biggest and best yet, featuring exciting new launches, fresh brands, industry insights, and emerging trends. The January Furniture Show and the Home Interiors Show is a perfect platform for brands to showcase their products and gain business success by fostering valuable industry connections."

Established over 30 years ago, the January Furniture Show continues to attract buyers, designers and manufacturers from across the furniture and design industry. So register now to get your badge and join the furniture industry in Birmingham next January – www.thefurnitureshow.com

To find out more & register please visit The Furniture Shows website.