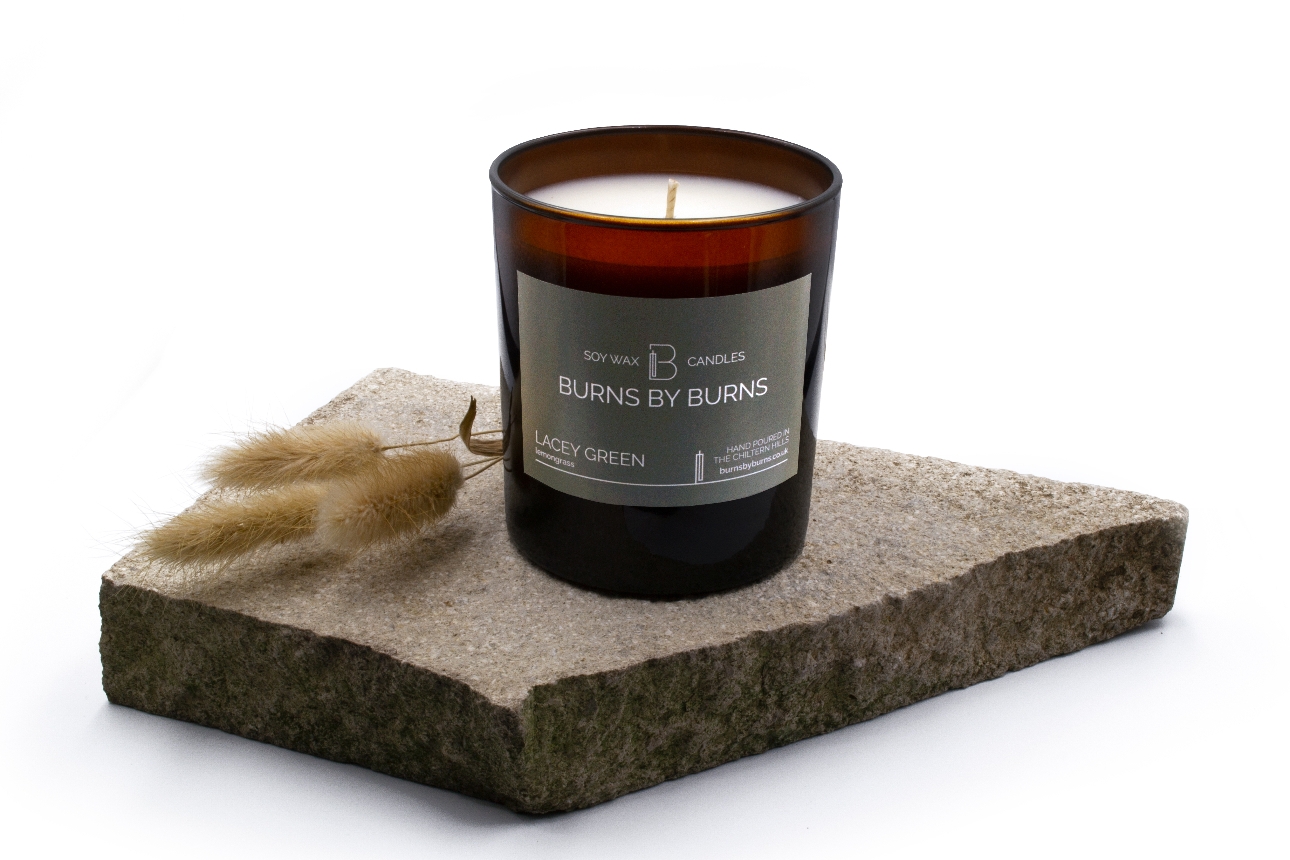 Hold on to your seats, candle enthusiasts! BURNS BY BURNS has officially landed at National Trust gift shops in and around The Chiltern Hills - what's more, this luxury candle retailer offers trade/wholesale services to boost your stock and candle offering.

The brand, founded in August 2022, has a fiery mission to spark joy in every home with beautifully designed candles inspired by the beauty of English heritage. BURNS BY BURNS also aims to inspire clean-living and actively encourages people to get outside and enjoy our glorious woodlands and green spaces.

The classic collection, exclusively available at The National Trust now, is a true testament to the brand's commitment to the environment. Featuring seven scented candles, each named after a town, village, or hamlet in The Chiltern Hills, an Area of Outstanding Natural Beauty (AONB) in the Southeast of the UK, this collection is a true breath of fresh air.

The classic collection includes:
Rhubarb + Blackberry for Nettlebed evoking memories of fruit picking and foraging in the countryside
Tobacco & Oak for Walter's Ash: conjuring up images of cosy fireside moments and the scent of aged wood
Pink Pepper + Rose for Bradenham recalling the beauty of blooming roses and the spicy scent of pink pepper
Lemongrass for Lacey Green creating a refreshing and energising atmosphere, perfect for summer evenings
Melon & Cucumber for Frieth offering a cool and revitalising aroma, perfect for post-walk relaxation
Saddler's Leather for Wheeler End combining the rich and earthy scent of leather with the warm glow of candlelight, creating a coxy & inviting atmosphere
Lavender Spa for Bledlow Ridge offering soothing scents of lavender and aniseed, to wind down after a summer's day
Paul Burns, the Founder of BURNS BY BURNS comments: "I founded BURNS BY BURNS with a strong commitment to promoting a healthy and sustainable lifestyle that celebrates the beauty of nature. Our scents are inspired by the breath-taking hotspots of the Chiltern Hills, and we hope they will inspire people to reconnect with the outdoors, breathe in the fresh air, and immerse themselves in the tranquillity of green spaces. As someone who is deeply passionate about clean-living, wildlife, and the environment, I believe in the transformative power of nature to enhance our physical and mental well-being. By sharing our vision with like-minded partners, we hope to encourage more people to embrace a lifestyle that prioritizes our connection to the natural world."
Gaynor Fitzgerald, at the Cliveden National Trust comments: "Burns by Burns candles epitomise our commitment to promoting sustainable and locally-sourced products at the Cliveden National Trust shop. Their captivating scents, each named after villages in the Chiltern Hills region, are thoughtfully packaged in eco-friendly materials and crafted from natural ingredients. As such, this brand clearly aligns to our cause and to supporting local businesses such as Burns By Burns." The Chiltern Hills candle collection are hand-poured using 100% natural soy wax, free-from genetically modified material, palm oil & petroleum. The candles contain no parabens, phthalates, surfactants, SLS, SLES or Triclosan. The full collection of 10 candles is also available on
www.burnsbyburns.co.uk
. All the candles are vegan and cruelty free hand-poured into amber coloured glass jars, packaged into a black gift box and retail for £28.00.
BURNS BY BURNS
Stockist details: 07951 778 843 |
https://burnsbyburns.co.uk/pages/wholesale