The National Stationery Week team are bursting at their pencil case seams with this year's all-star line-up. Maped Helix, Pentel, Snopake, Edding, Zebra and Staedtler are headlining the seven days of stationery and will be filling the week with exciting initiatives for both independent stationery retailers and stationery lovers alike.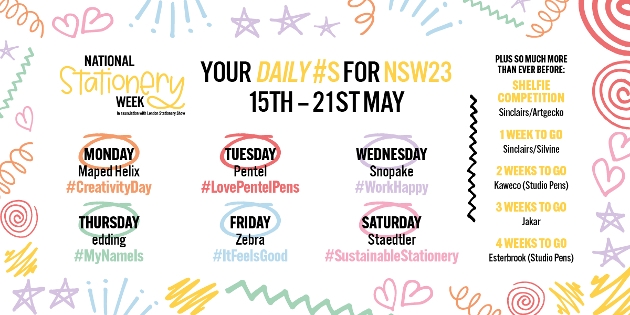 Monday 15 May: #CreativityDay sponsored by Maped Helix
Tuesday 16 May: #LovePentelPens sponsored by Pentel
Wednesday 17 May: #WorkHappy sponsored by Snopake
Thursday 18 May: #MyNameIs sponsored by Edding
Friday 19 May: #ItFeelsGood sponsored by Zebra
Saturday 20 May: #SustainableStationery sponsored by Staedtler

Sarah Laker, National Stationery Week coordinator, says "I've been blown away by the response from these world-renowned brands sponsoring National Stationery Week and would like to thank them for their support. It's going to be an exciting week filled with all sorts of amazing competitions and giveaways, a true celebration of all things stationery".

Alex Butler, Event Director of London Stationery Show, adds: "It's wonderful to see so many suppliers engage with this year's campaign, and I can't wait to see how the retailers interpret each of the daily hashtags in their own stores. It's a privilege to be a part of such an important campaign which gets more people writing".

Rebranded National Stationery Week is taking place between 15th-21st May 2023, and will be championing stationery in all its forms. Since it's launch in 2011, National Stationery Week has campaigned to get more consumers into shops by encouraging them to put pen to paper. This year is shaping up to be bigger and better than ever before with the stellar line-up of brands.

To discuss the remaining sponsorship opportunities as well as how retailers can get involved in this year's unmissable National Stationery Week, contact Sarah Laker at sarah@nationalstationeryweek.com.