ExaClair Limited, the UK subsidiary of the Exacompta Clairefontaine Group, has recently added a 'Scrap-Addict' kit to complement its premium quality collections of photo albums.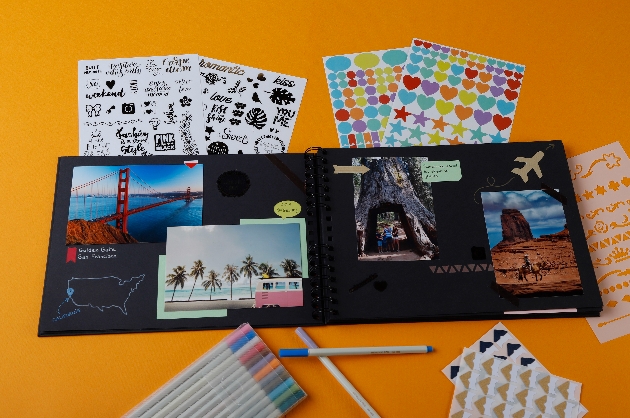 Scrap-Addict is a complete scrapbooking kit and allows the user to create their own memories by expressing their creativity using the components included.

The black spiral album contains 70 pages (32cm x 22cm) of premium quality black paper, giving a total capacity of 210 (10cm x 15cm sized) photos and offers excellent preservation of them. The durable and rigid cardboard covers that are then coated with paper are customisable and the spiral binding allows the pages to lie flat.

The 12 metallic ink pens in light colours for writing on black paper are perfect for adding captions to any photos, recording special memories or creatively decorating the pages.

The kit also includes two sheets of gold stickers with trendy designs and words, and two sheets of classic pastel-coloured stickers which include hearts and stars, giving a total of 300 stickers. Also included are two sheets of self-adhesive gold and kraft photo corners, making a total of 48.

To help with decorating pages two stencils are included, one featuring geometric and floral shapes and the other magical children's patterns.

Lawrence Savage, Marketing Manager at ExaClair, says that scrapbooking is a popular way for recording precious memories in a creative way: "This new Scrap-Addict kit is perfect for both beginners taking their first steps in this activity and experienced scrapbookers. It would also make a perfect gift for creative friends and loved ones."

To discover more of the Exacompta photo albums and accessories range, please visit www.exaclairlimited.com.