Graphic design and illustration brand, Snowtap, has signed a deal with leading stationery and gift licensee, Blueprint Collections, to create a range of social stationery and gifts to launch in spring 2023. The news comes shortly after Snowtap was shortlisted for the Henries 2022 greeting card awards. The new range will feature the beautiful artwork from Snowtap, which includes illustrations in watercolour, line drawing and hand-drawn typography, with witty and motivational puns. The art takes inspiration from the natural world, and features a range of animals. Items in the Blueprint offering are set to include mugs, pencil cases, notebooks, pens, sunglasses cases, drinks bottles and more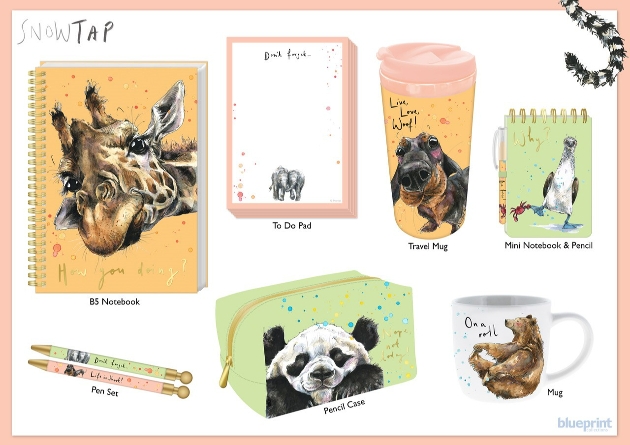 Blueprint Collections supplies licensed stationery, bags and gifts to a broad cross section of retail partners across the UK, Europe and the Middle East. The company strives to bring to the market the best designs, product and service for the best possible price. Products are always developed with the end consumer at the forefront of our plans.The partnership builds on Snowtap's consumer products programme, managed by KJG Ltd, which also includes a collection of greetings cards inspired by the stunning designs from The Art File.

Lisa Shand, Managing Director at Blueprint Collections, commented: "Blueprint is delighted to be partnering with Snowtap and Kirsty Guthrie from KJG Ltd to bring to market a collection of social stationery and gifts for the spring of 2023. The imagery is stunning and we are all sure that the collection will win the hearts of our customers."

Gracie Tapner and Susy Snow, founders of Snowtap, added: "We're really looking forward to working with Blueprint Collections on this new range. The products have the perfect synergy with our designs and we're thrilled to be able to extend our licensed product offering and for our designs to reach more consumers."

Kirsty Guthrie, KJG Ltd, said: "I'm over the moon that Snowtap has been shortlisted for a prestigious Henries 2022 greeting card awards and am excited to see Blueprint's stationery and giftware range launch next year. This showcases the beautiful Snowtap work being very adaptable to all kinds of consumer products and on to any manner of mediums for consumers to enjoy."