The Home of Classic Character celebrating 50 years of Rainbow Designs and prepares to virtually showcase the launch of some of its most new products and collections for the nursery, toy and gift sectors.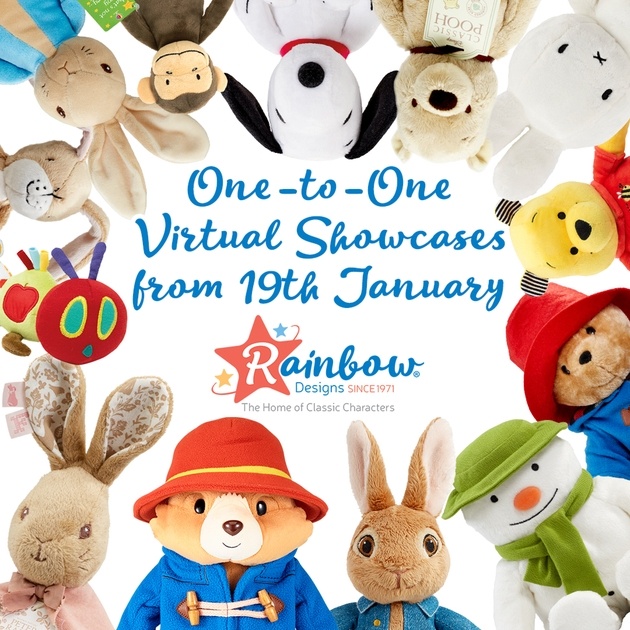 Rainbow Designs will be offering retailers the opportunity of one-to-one virtual showcase meetings from Tuesday 19th January. Retailers will have the chance to view the brand collections as well as all new launches for 2021.

New this year are several new lines arriving in the highly successful Adventures of Paddington toy range and much-loved Peter Rabbit collections.

There will also be a new Spirit soft toy range, to celebrate the release of the new Spirit Untamed Movie, as well as a Always and Forever Winnie the Pooh collection. In addition, there are new collections set to launch for We're Going on a Bear Hunt and Everybody Loves Snoopy, as well as new wooden toy collections for both 'Fun with Spot' and Guess How Much I Love You.

Zara Grindrod, sales and marketing director, and the whole team at Rainbow Designs, are looking forward to working closely with their dedicated retailers this year and supporting them in whatever 2021 brings.

She said, "This isn't the way any of us hoped to be kicking off the New Year but we are ready to make the best of it and excited to be showing our retailers our full 2021 offering. We will be working alongside them to make sure we are supporting our retailers as best we can in the coming year."

Email sales@rainbowdesigns.co.uk to set up a one-to-one meeting.