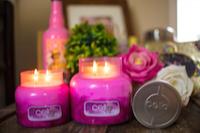 Win £500 RRP of stock from Xystos
To celebrate the launch of the new collection, Xystos is giving away RRP £500 worth of its bestselling Cello stock. The wax offering of muted colours is complemented by reed diffusers and accessory collections, with RRPs from £2.69 for Scent Cup – a unique "try me"-sized candle that gives a full fragrance experience – to £25.99 for the Fragrance Burst Large Jar candle, which has a burn time of around 150 hours.
Taking its knowledge and passion for quality home fragrance, Xystos has created an exciting bespoke collection of candles, reed diffusers and accessories. This new collection, Cello, certainly hit the right note with buyers when it was launched at the Home & Gift Buyers' Festival in Harrogate. And at Autumn Fair, strong orders for the range continued to flow from multiple stores, garden centres and small independent shops. There are 12 bestselling fragrances, with each blend featuring a top, middle and base note that, when combined, create a harmony of scents. The artful colourway and on-trend design on each product are stylish and elegant, while all Cello products carry a subtle logo, ensuring authenticity and quality. This runs throughout the collection, giving the Xystos halo of approval.
For your chance to win, simply answer the following question and complete the form below before 25 January 2019