Articles
Ahead of the game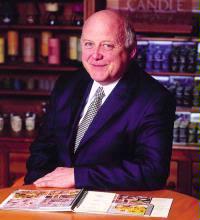 A change for the better

"Change brings opportunity" a simple yet profound quote from author and businessman Nido Qubein which perfectly illustrates the subject of this article. I consider change to be extremely positive. However, you don't need to reinvent the wheel, just change the tyres to suit the roads. Consumers are constantly looking for something new, be it products, store layout or even a new marketing approach. New captures attention and increases sales, but it needn't be an expensive exercise! I always advise retailers to analyse and evaluate their current business, by doing so you will be able to see the areas that are doing well and those requiring a fresh approach.

Doing the sums

First and foremost, the area to concentrate on is your expenditure and yearly profit. If your expenditure is high and profit is low, compared to your sales, you need to scrutinise your current stock, which products sell well and which are impossible to shift? In my previous article, I advised stocking desirable products which need regular replacing as they sell well with consumers. These products are your cash cows and should always be kept in stock whilst they are popular in order to meet the demand of your customers.

Doing the research

My next piece of advice is to utilise all information available to you. Every day hundreds of journalists, professional bloggers and stylists are researching and writing about trends, what people are buying and must-have products. So make sure you capitalise on these mediums, the important market research is done for you, all you need to do is cherry pick the ideas you can make work to the best of your advantage.

Staying on trend

Take note of the products consumers are buying, do you have similar products in store? If so, make sure these take a prime position in your shop to attract maximum attention. Look at the trends coming through for the upcoming seasons and take ideas from these, how can they be used to renew the atmosphere and look of your shop?

Business analysis

I advise all business owners I meet to regularly evaluate their own attitudes and management style. A fresh approach to the way you supervise and direct your staff is an effective and low cost way to constantly keep your business ahead of the competition by delivering top notch customer service. Think carefully about your staff development programme. What incentives do you currently have in place? Do you set goals for your staff to achieve on a monthly basis? One way to ensure your staff are constantly motivated and reaching their targets is to implement bi-annual reviews. This will afford you the time to have a constructive face to face meeting with your staff to set their own personal goals. By doing so, you can keep on top of your staff development and ensure your team is the best it can be. Incentivise your staff to improve the conversion rate from visitor to purchaser.

Happy staff

Happy staff with constructive management equal happy customers. Make your staff feel valued and boost morale at every possible opportunity, their positive attitude will be clear to your customers who will leave your shop with a warm, affirmative feeling and will return based on their positive experience. Hold monthly staff meetings in order to assess the previous month's business and accomplishments. Get your staff to test out new products or collections, consumers are more likely to spend their hard earned money on a personal product recommendation. Your staff will also enjoy the opportunity to trial a new line which in turn will enable them to relay their expert product knowledge to your customers boosting their confidence and helping to improve their selling techniques.

Happy costomers

Finally, give a little extra! It's always nice to receive something you weren't expecting. Consider offering a free gift wrapping service with all purchases at peak selling periods such as Christmas or Valentine's Day. Ensure your own branded packaging looks presentable and stylish, people carrying your shopping bags are a walking advert for your shop so you want them to look their best. If you haven't got your own personal bags you can always find out if any of your suppliers offer branded gift bags or packaging materials and utilise these to create a luxurious shopping experience.

Further information

For further information on Yankee Candle¨ and sales advice telephone +44 (0)1454 454 500 or visit the website www.yankeecandle.co.uk for example.
Date Posted: