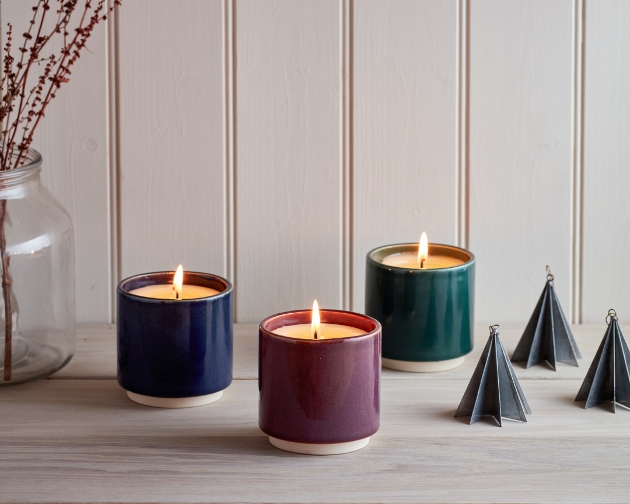 Drawing inspiration from the stunning autumn and winter months, St. Eval has seized the festive season and are delighted to divulge their charming Christmas collections for 2023, including elegant pots, showstopping pillars and beautifully illustrated tins and tealights.

Winter's Eve
New for 2023, watch the magic of the season come alive in jewel-toned pots of mesmerising midnight blue, charming winter plum purple, and enchanting forest green. Crafted with care and infused with the spirit of Christmas, these festive candles add warmth, joy, and a touch of elegance to enchant the evenings. Brought to life with love, St. Eval's Winter's Eve collection perfectly warms the heart and lifts the spirit, encapsulating the scents of the season with spicy Inspiritus, zesty Orange & Cinnamon and herbal Winter Thyme. Embracing the Christmas merriment, St. Eval ensures their Winter's Eve collection is encased in pretty pots perfect to repurpose, treating customers to a gift that glistens beyond the season.

Sea & Shore
Crafted to complement the peaceful serenity of nature, St. Eval's Sea & Shore collection encompasses three evocative fragrances including the invigorating scents of fruity Fig Tree, sweet Wild Gorse and refreshing Sea Salt. Each pot is handmade in a family run factory in Portugal, and truly unique due to the reactive glazes. These finishes artfully mirror the coastal tones and palettes of nature, encompassing enchanting turquoise, pastel sky blue and deep ocean-inspired shades, embodying the wild unconventionality of the sea's waves crashing, wildlife blossoming and nature flourishing.

Celestial
Inspired by the sparkle of our star-studded heavens, St. Eval's Celestial collection encapsulates the beauty of the night sky and celebrates the magic of the cosmos. Home to a trio of beloved St. Eval fragrances, Orange & Cinnamon, Inspiritus and Winter Thyme, the dreamy Celestial collection is adorned with delightful astronomical designs and is perfect to invite the warmth of the winter season indoors.

Pillars and Multiwicks
St. Eval's showstopping pillars and multiwicks make an exciting return to add a touch of luxurious sparkle to the season. Inspired by the glimmer of a starry night, St. Eval's magnificent pillars and multiwicks stun in their three charming colours and fragrances, half dipped in a glorious gold that exuberates festive grandeur. Bewitching in their autumnal hues, St. Eval's Christmas Pillars and Multiwicks are displayed in dazzling gift boxes adorned with intricate illustrations, wonderful winter scenes and charming characters for the ultimate indulgent gift.


Nestled on a farm in the heart of North Cornwall, St. Eval sustainably craft candles, diffusers and body care with people and planet at heart. With a desire to drive high standards and a vision of sustainability, St. Eval have legally embedded this commitment by becoming a certified B Corp. Treading lightly on the earth, St. Eval's nature-inspired scents curate an atmosphere of wellbeing for people and planet. Following their core values to protect, nurture and respect each other and the earth, St. Eval endeavour to place purpose over profit in their journey to create a brighter, more balanced world.

St. Eval's Christmas collections will be available from late September. The Sea & Shore Collection is available to order now via become a stockist.