---
12 Corner House, Narborough Wood Park, Desford Road, Enderby, Leicestershire LE19 4XT
Tel: +44 (0)844 372 7820
Email:
info@groovyuk.com
Web:
www.groovyuk.com





Groovy UK design and manufacture one-of-a-kind gift lines including bathrobes, slippers, lighting, jumpsuits, bags, ceramics and glassware. Groovy has a team of imaginative designers creating new product concepts to give everyday lines an original slant. Licenses include Star Wars, Marvel, DC Comics, Suicide Squad, Harry Potter, Fantastic Beasts, Assassins Creed, Mr Men, Jimmy the Bull, Gudatama, Brandalised and Frida Kahlo.
Groovy is enjoying a very exciting period at the moment having just signed brand new licenses such as Mr. Men, Gudatama, Brandalised, Jimmy the Bull and Frida Kahlo, boosting the creativity and unique style of Groovy, alongside growing new product areas within their licenses.
---
Groovy UK Ltd (View profile)
12 Corner House, Narborough Wood Park, Desford Road, Enderby, Leicestershire LE19 4XT UK
Tel: +44 (0)844 372 7820
Email:
info@groovyuk.com
Web:
www.groovyuk.com



Groovy UK 'Different by Design' Design and manufacture unique licensed gifts including, Bathrobes, Slippers, Lighting, Onesies, Bags, Ceramics and Glassware.
With an in house design team Groovy creates its own collections which add to the eclectic mix of products and will further develop its ranges of lifestyle accessories going forward.
License partners include: Harry Potter, Star Wars, DC Comics, Doctor Who, Rocky, Assassins Creed, Marvel, Grumpy Cat, Shaun The Sheep, Yoga Cats and Dogs and brand new to the range are Frida Kahlo, Jimmy The Bull, Gudetama, Brandalised, Mr Men and Little Miss and always adding more.
---
Happy Hashtag Ltd (View profile)
Tel: 0208 168 0122
Email:
sales@happyhashtag.co.uk
Web:
http://www.happyhashtag.co.uk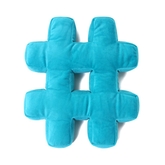 #hashtagcushions - hashtag shaped emoji cushions. Our 12 year old daughter already had yellow round emoji cushions and wanted something new. Spending more time texting her friends than talking to them, every sentence finished with #hashtagquotes and emojis.
She looked for hashtag shaped cushions everywhere but couldn't find any, except square cushions with a # printed on them. With the parental fear of depriving our pre-teen some instant gratification, we helped her sketch a design and got a factory to produce some.
Sitting proudly in her bedroom, friends showed interest and asked where they could buy one from and what colours they came in. HappyHashtag.co.uk was born.
---
J J Vaillant Ltd (View profile)
Number 1, Devon Street, Nechells, Birmingham, B7 4SL
Tel: 0121 667 3629
Email:
info@jjvaillant.com
Web:
www.jjvaillant.com
Various Furniture & Lighting
Items pictured our from our Aluminium furniture with Nickel Finish, Tiffany Style Table Lamps and Art Deco lighting. we have many more items available.
---
January Furniture Show Ltd (View profile)
Tel: 0207 384 8211
Email:
info@januaryfurnitureshow.com
Web:
www.januaryfurnitureshow.com




January Furniture Show
NEC | 20-23 January 2019
Source new products, discover fresh trends, and mett 100s of suppliers at the UK's biggest furniture and interiors show. Make yourself at home at the industry event of the year.
Find out more at januaryfurnitureshow.com
---
Mandarin Arts Ltd (View profile)
Units 4-6, Granada Park, Llangattock, Crickhowell, Powys NP8 1HW
Tel: 01873 812255
Fax: 01873 812299
Email:
info@mandarinarts.co.uk
Web:
www.mandarinarts.co.uk
Mandarin Arts supply a diverse array of oriental treasures from small carvings to large cabinets. Stocking well over 1000 lines, their entire range has its roots in the traditional styles and designs of the Orient.
With a recent emphasis on ceramics, their range includes a fantastic selection of Porcelain Table Lamps as well as Jars, Vases, Tea-sets and Tableware. Silky Brocades can be found adorning Collectable Dolls, Jewellery Boxes and other accessories. Fans, Lanterns, Hand-painting and Lacquerware also feature strongly in their range.
Call for a free current catalogue and price list.
---
Tilnar Art (View profile)
Days Farm House, Days Lane, Pilgrims Hatch, Brentwood, Essex CM15 9SL UK
Tel: 01277 362 815
Email:
sales@tilnarart.co.uk
Web:
www.tilnarart.co.uk



Wooden Giraffes & Soapstone Decorative Items
Our range of beautifully Hand Carved Wooden Animals are from Zimbabwe and are hand carved from non-endangered Jacaranda, Munyunya or Olivewood, the animals are each one of a kind with unique markings and poses. Each animal comes with its own product tag, providing a picture and description of the artist.