---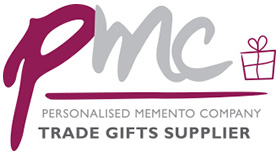 Unit 2, Govan Road, Fenton Industrial Estate, Stoke on Trent, Staffordshire ST4 2RS
Tel: 01782 744900
Fax: 01782 747746
Email:
sales@personalisedmemento.co.uk
Web:
www.personalisedmemento.co.uk





The Personalised Memento Company are the UK's leading supplier of personalised gifts to the trade. With over 7000 products personalised and drop-shipped from their base in Stoke-on-Trent, Staffordshire, they provide a perfectly personalised gift for every occasion.
PMC supply a range of engraved, embroidered, ceramic, printed glass and alcohol gifts to a range of independent, e-commerce, mail order and leading multichannel high street retailers. All of their products are made to order and can be drop-shipped directly to your customer, removing the need to hold costly stock.
Licensed gifts form a large part of PMC's personalised product range and they are constantly growing their licensed portfolio. PMC are proud to count Rachael Hale, Me to You, Miffy, Boofle, Country Diary and Purple Ronnie among their licensed offering.
PMC also design and produce many of their own on-trend and market-leading product ranges, creating gifts that are ideal for all recipients across occasions like Christmas, Father's Day, Mother's Day, Valentine's Day, weddings, birthdays, religious occasions and many more. What's more, PMC are able to hold your stock and produce unique and exclusive designs.
To register for your account, or to find out more about how personalised gifts can transform your product range, please click here
.
---
1 Two Kids Limited (View profile)
Unit 5, Castle Industrial Centre, Queensferry Road, Dunfermline, Fife KY11 8NT United Kingdom
Tel: 01383 735134
Email:
contact@1two.co.uk
Web:
www.1two.co.uk



Sophie la girafe
Iconic teething toy in production since 1961 and loved worldwide by teething babies everywhere.
---
Amscan International Ltd (View profile)
Brudenell Drive, Brinklow, Milton Keynes, MK10 0DA, ,
Tel: 01908 288500
Fax: 01908 288501
Email:
sales@amscan-uk.co.uk
Web:
www.amscan.co.uk


Amscan is the leading designer, manufacturer and distributor of party products, balloons, costumes and face paints. Distributing product to retail outlets throughout America, Europe & Australia; Amscan offers thousands of items across hundreds of different ranges, all of which contribute to our "one stop party shop" ethos. We focus on offering innovative, high quality products at competitive prices, in line with the latest trends and hottest licensed properties.
With a UK head office based in Milton Keynes; Amscan also boasts the largest party showroom outside of the US, providing retailers with merchandising expertise and inspiration throughout the 500m2 space.
---
Apples to Pears (ATP Gifts) (View profile)
West 2nd, The Wheelhouse, Bonds Mill, Bristol Road, Stonehouse, Gloucestershire GL10 3RF England
Tel: 01453 826759
Fax: 01453 825169
Email:
sales@applestopears.com
Web:
www.applestopears.com





Apples to Pears, the multi-award winning company renowned for ever popular Gift in a Tin brand continues to expand its ranges to meet increasing demands from UK and international buyers. The Gift in a Tin brand which was awarded the coveted Gift of the Year 2018 in the Licensed Product category now includes over 40 fantastic designs and really does provide "something for everyone"! Refreshing their range every few months, the latest products added to the Gift in a Tin range for 2019 are George the Giraffe a cuddly craft kit, Space Station a set of plastic building blocks to make a space rocket, satellite and moon buggy, and finally My Garden Play Set, this tin is packed to the brim with gardeners essential s to encourage children to get outdoors.
Renowned for producing attractive and practical Garden Gifts, Apples to Pears relaunched their Garden range in February 2018, with products ranging from bird feeders & insect houses to watering cans, all available in Teal and Slate. The collection also offers a range of boxed products, including the famous Folding Pocket Secateurs and an increasingly popular range of plant markers – all attractively packaged to make them perfect for gifting!
They have also branched into homewares with two new collections for 2018, one using the designs created by Scottish artist Ailsa Black. This collection includes items such as storage tins, mugs, coasters and trays. Apples to Pears are also launched a new collection at Autumn Fair called 'BollyNice'. Handcrafted by artisans from India using skills passed down through generations each unique product combines contemporary design with natural materials such as sustainable mango wood. This new range includes serving bowls, chopping boards and also organic cotton textiles printed by hand. This collection is a Gift of the Year finalist 2019.
---
Black Ginger (View profile)
Kingfisher Works, Tag Lane, Hare Hatch, Reading, Berkshire RG10 9SH UK
Tel: +44 (0)118 940 3731
Fax: +44 (0)118 940 1448
Email:
info@blackginger.co.uk
Web:
www.blackginger.co.uk


Cute gifts for kids
We have a range of gifts for children including but not limited to; money boxes, clocks, jewellery and bags . We are always expanding this range and looking for new items each season.
---
Joe Davies Ltd (View profile)
149 Broadstone Road, Reddish, Stockport, SK5 7GA
Tel: 0161 975 6300
Fax: 0161 975 6301
Email:
sales@joedavies.co.uk
Web:
www.joedavies.co.uk
Doodles Plush Collection
Doodles is a brand new delightful range of plush animals in knitted, crochet & rag doll designs.
---
Laura Darrington Design Ltd (View profile)
Clayton Willey Grocers, Inkersall House, Lutterworth Rd, Gilmorton, Leicestershire LE17 5NY UK
Tel: 0116 284 9660
Email:
info@lauradarrington.com
Web:
www.lauradarrington.com



Cut-Out Cuties, Lets Go, Hey Baby
We offer a number of collections suitable for babies & children. These include general birthdays, christenings, naming days & child specific christmas cards.
---
Lesser & Pavey Ltd (View profile)
Leonardo House, Fawkes Avenue, Dartford, Kent DA1 1JQ England
Tel: 01322 279225
Fax: 01322 279586
Email:
sales@leonardo.co.uk
Web:
www.leonardo.co.uk




Baby/Children ranges
Farmyard - We have added these cute Farmyard gifts to our Little Stars range, including a drink bottle, folding storage box, laptray, lunch bag and more.
Little Stars - The range features bowls, plates, beakers, cutlery and trays, available in vehicle, dinosaur, princess and unicorn designs.
Mad Dots Baby - The award winning Hearts Designs have come up with a lovely range of "Beautiful Baby" gifts, exclusive to Lesser & Pavey, including Gift Sets and Trinkets.
Check out our website for more great Baby/Children ranges: www.Leonardo.co.uk
---
Little Bird Told Me (View profile)
Unit N5 (Gate 6), Meltham Mills Industrial Estate, Meltham Mills Road, Meltham, West Yorkshire HD9 4DS England
Tel: +44(0)1484 682430
Fax: +44(0)1484 937184
Email:
contact@littlebirdtoldme.co.uk
Web:
www.littlebirdtoldme.co.uk



Push Along Dogs and The Dog And The Bear range
Little ones will fall in love with our Push-Along dogs - Percy Pup and Dexter Dog. Golden Labrador Dexter, with his super soft fur and Dexter Dog (with his removable coat) are designed to engage and inspire curious minds with traditional play features. Designed as a push-along and a ride-on the dogs are sure to be a hit!
The Dog and The Bear range features lovable characters with fabulous rich, textured fabrics for lots of touchy feely goodness!
---
Personalised Memento Company (PMC) (View profile)
Unit 2 Govan Road, Fenton Industrial Estate, Stoke on Trent, Staffordshire ST4 2RS England
Tel: +44 (0)1782 744900
Fax: +44 (0)1782 747746
Email:
sales@personalisedmemento.co.uk
Web:
www.personalisedmemento.co.uk



Personalised What Time Is It? Wooden Clock
With over a thousand imaginative and fun children's products in their collection, PMC is guaranteed to have the perfect gift for your little one. The latest additions to PMC's range include a selection of personalised educational gifts, such as their 'What Time Is It?' wooden clock.
With a growing range of personalised educational gifts now on offer, PMC continue to offer the UK's leading range of personalised children's gifts.
---
Sock Academy Ltd (View profile)
Hexton Manor Stables, Hexton, Herts SG5 3JH
Tel: 01582 882124
Email:
sales@sockacademy.com
Web:
www.unitedoddsocks.com


Pen Pals
You'll always feel like you're going for a stroll in the countryside with our special Pen Pals collection. We've rounded up six of our favourite farmyard friends to keep you company wherever you go.
They all get on famously so there's no need to separate the sheep from the goat or the duck from the donkey! Sadly you can only wear two Pen Pals at a time but the beauty of our Oddsocks is that you can mix your friends up all the time without anyone bleating (or mooing, or quacking….).
---
The Puppet Company (View profile)
Units 2-4 Cam Centre, Wilbury Way, Hitchin, Hertfordshire SG4 0TW England
Tel: 01462 446040
Fax: 01462 446041
Email:
info@thepuppetcompany.com
Web:
www.thepuppetcompany.com


My First and My Second Puppets
Our beautifully soft and colorful 'My First' and 'My Second' puppet ranges are all suitable from birth and babies really do love them!
---
Think Pink (View profile)
Tel: 01253 831512/540
Email:
enquiries@thinkpinkblue2.com
Web:
www.flossandrock.co.uk
Sleepover Fairies
Sleepover Fairy Rag Doll
We have added Miss Darcy the ballerina to our current range of sleepover fairies. Each fairy has removable clothes, together with a pink satin sleeping bag and a message card in her beautiful hand illustrated fairy bedroom gift packaging.