Trade suppliers' directory
You are currently browsing: Pet accessories
---
Please mention Gift Focus when contacting suppliers.
---
Stubbs Mugs (View profile)
Unit 10, Weybourne Road Industrial Estate, Weybourne Road,, Sheringham, Norfolk NR26 8AF United Kingdom
Tel: 01263 823333
Email:
trade@stubbsmugs.co.uk
Web:
www.stubbsmugs.co.uk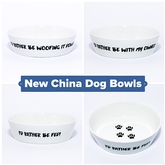 China Dog Bowls
We have a beautiful new collection of China Dog Bowls, at 200mm diameter and 55mm height, they are the perfect gift for a medium-large size dog. We have 3 different designs, all text is in black with a paw print design inside the bowl - I'd Rather Be Woofing It Down, I'd Rather Be With My Owner, and I'd Rather Be Fed.