---
Apples to Pears (ATP Gifts) (View profile)
Suite 2, Bank House Bonds Mill, Bristol Road, Stonehouse, Gloucestershire GL10 3RF England
Tel: 01453 826759
Fax: 01453 825169
Email:
sales@applestopears.com
Web:
www.applestopears.com





Apples to Pears, the multi-award winning company renowned for ever popular Gift in a Tin brand continues to expand its ranges to meet increasing demands from UK and international buyers. The Gift in a Tin brand which was awarded the coveted Gift of the Year 2018 in the Licensed Product category now includes over 50 fantastic designs and really does provide "something for everyone"! Refreshing their range every few months, the latest products added to the Gift in a Tin range were Scooter in a Tin, a challenging metal construction kit, Jake the Snake, an educational wooden puzzle with the alphabet on one side and numbers on the other and Dinosaur Island, a wonderful pre-school wooden play and learn set for 18 months plus!
Renowned for producing attractive and practical Garden Gifts, Apples to Pears relaunched their Garden range in February 2018, with products ranging from bird feeders & insect houses to watering cans, all available in Teal and Slate. The collection also offers a range of boxed products, including the famous Folding Pocket Secateurs and an increasingly popular range of plant markers – all attractively packaged to make them perfect for gifting!
A longstanding innovator within the gift trade, this creative company from the Cotswolds is a licensee for The Natural History Museum.
They have also branched into homewares with two new collections for 2018, one using the designs created by Scottish artist Ailsa Black. This collection includes items such as storage tins, mugs, coasters and trays. Apples to Pears are also launched a new collection at Autumn Fair called 'BollyNice'. Handcrafted by artisans from India using skills passed down through generations each unique product combines contemporary design with natural materials such as sustainable mango wood. This new range includes serving bowls, chopping boards and also organic cotton textiles printed by hand.
---
Blue Poppy Art - Frith Sculpture (View profile)
Units 3-4 Kemble Business Park, Crudwell, Malmesbury, Wiltshire SN16 9SH UK
Tel: 01666 577110
Email:
sales@bluepoppyart.co.uk
Web:
www.frithsculpture.co.uk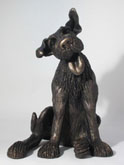 HD061 Clyde
Frith Pups consist of 25 different sculptures designed for us exclusively by Harriet Dunn. Their retail price ranges from £25 to £340
---
Classic Canes (View profile)
Warren House, Hinton St George, Somerset TA17 8TQ England
Tel: +44 (0)1460 75686
Fax: +44 (0)1460 78222
Email:
info@classiccanes.co.uk
Web:
www.classiccanes.co.uk





Classic Canes is one of the world's leading specialist suppliers of walking sticks, folding canes, seat sticks and umbrellas.
Established in 1982, this family-run company stocks over 650 traditional and contemporary walking sticks, many of which are grown and manufactured in Somerset, England.
Other key products include ladies' fashionable canes in floral and other prints, evening canes, collectors' canes and folding and orthopaedic models.
---
Midhaven Ltd (View profile)
PO Box 2, Droitwich, Worcs WR9 0YQ UK
Tel: 01299 851513
Email:
info@midhaven.co.uk
Web:
www.midhaven.co.uk
Tribal Steel is a range of over 100 on-trend leather and Stainless Steel bracelets for men, women, lads and petites with many unisex styles. Prices are very keen and service is fast.
3 new flyers showing Men's, Woman's and Unisex are now available on our website or can be posted to you.
Trade prices for the range are from £2.55 - £18.00.
Choose from plaited or single strand, black, brown, violet, red, tan, white, berry, navy and more, charms or plain. We can advise or make up a selection based on your preferences and you can return any styles you don't like within 3 months.
See our website for more details or ring Alison + Allison.
---
Stockholmsmassan AB (View profile)
Mässvägen 1 Älvsjö, Stockholm, Sweden
Tel: +46 8-749 99 00
Email:
gunnel.hulden@stofair.se
Web:
www.formex.se


Formex started in 1960 and is held twice a year, in the beginning of January and in the end of August. We have about 850 exhibitors per fair with products within interior design, fashion and accessories etc. The fair brings together national and international buyers, agents, designers, producers and media from all over the interior design and gifts industry. Each fair we have about 23,000 visitors and about 650 media representatives. Besides the opportunity to do business, the fair gives visitors information about trends, inspiration and knowledge in the form of exhibitions and lectures.
---
Tilnar Art (View profile)
67 Mayflower Way, Ongar, Essex CM5 9BA UK
Tel: 01277 362 815
Email:
sales@tilnarart.co.uk
Web:
www.tilnarart.co.uk



Tilnar Art sources unique high quality Fair Trade Gifts, Interiors and Homewares direct from artisans from across the developing world. All our items are handmade and many are unique and are one of a kind collectibles.