---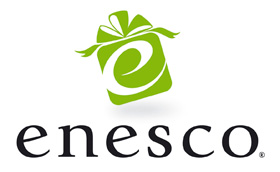 Brunthill Road, Kingstown Industrial Estate, Carlisle, Cumbria CA3 0EN
Tel: 01228 404022
Fax: 01228 404041
Email:
uksales@enesco.co.uk
Web:
www.enesco.co.uk




Enesco is renowned worldwide for innovative and humorous gifts, stylish home décor, imaginative garden wares and desirable collectibles.
Our outstanding selection of high quality products encompasses well known licences for all-time favourites such as Beatrix Potter, Disney, Classic Winnie the Pooh, Boo, Pusheen, Designs by Lolita and most recently Hallmark and Flower Fairies.
---
Apples to Pears (ATP Gifts) (View profile)
Suite 2, Bank House Bonds Mill, Bristol Road, Stonehouse, Gloucestershire GL10 3RF England
Tel: 01453 826759
Fax: 01453 825169
Email:
sales@applestopears.com
Web:
www.applestopears.com





Apples to Pears, the multi-award winning company renowned for ever popular Gift in a Tin brand continues to expand its ranges to meet increasing demands from UK and international buyers. The Gift in a Tin brand which was awarded the coveted Gift of the Year 2018 in the Licensed Product category now includes over 50 fantastic designs and really does provide "something for everyone"! Refreshing their range every few months, the latest products added to the Gift in a Tin range were Scooter in a Tin, a challenging metal construction kit, Jake the Snake, an educational wooden puzzle with the alphabet on one side and numbers on the other and Dinosaur Island, a wonderful pre-school wooden play and learn set for 18 months plus!
Renowned for producing attractive and practical Garden Gifts, Apples to Pears relaunched their Garden range in February 2018, with products ranging from bird feeders & insect houses to watering cans, all available in Teal and Slate. The collection also offers a range of boxed products, including the famous Folding Pocket Secateurs and an increasingly popular range of plant markers – all attractively packaged to make them perfect for gifting!
A longstanding innovator within the gift trade, this creative company from the Cotswolds is a licensee for The Natural History Museum.
They have also branched into homewares with two new collections for 2018, one using the designs created by Scottish artist Ailsa Black. This collection includes items such as storage tins, mugs, coasters and trays. Apples to Pears are also launched a new collection at Autumn Fair called 'BollyNice'. Handcrafted by artisans from India using skills passed down through generations each unique product combines contemporary design with natural materials such as sustainable mango wood. This new range includes serving bowls, chopping boards and also organic cotton textiles printed by hand.
---
Harrogate Christmas & Gift (View profile)
Alpha House, Tipton Street, Sedgely, DY3 1HE UK
Tel: +44 (0)1902 880906
Email:
simon@harrogatefair.com
Web:
www.harrogatefair.com
---
Heaven Scent Incense Ltd (View profile)
The Wharf, Frome Road, Bradford upon Avon, Wilts BA15 1LE UK
Tel: 01225 868788
Fax: 01225 868789
Email:
contact@heavenscent.co.uk
Web:
www.heavenscent.co.uk

Doing things naturally
Original Natural Candle Company 1993
---
January Furniture Show Ltd (View profile)
Tel: 0207 384 8211
Email:
info@januaryfurnitureshow.com
Web:
www.januaryfurnitureshow.com




January Furniture Show
NEC | 20-23 January 2019
Source new products, discover fresh trends, and mett 100s of suppliers at the UK's biggest furniture and interiors show. Make yourself at home at the industry event of the year.
Find out more at januaryfurnitureshow.com
---
Tilnar Art (View profile)
67 Mayflower Way, Ongar, Essex CM5 9BA UK
Tel: 01277 362 815
Email:
sales@tilnarart.co.uk
Web:
www.tilnarart.co.uk



RSPB Collection
The RSPB is the country's largest nature conservation charity and, together with our partners, we help birds, wildlife and natural places survive and thrive. Thank you for doing your bit to help by buying this RSPB product. Every product sold generates income for the RSPB which we use to help Give Nature a Home.
These beautiful metal sculptures are hand made by a group of artisans from Zimbabwe who have an international reputation for producing the highest quality metal sculptures available from Africa. The products are Fair Trade and your purchases of these sculptures help provide a stable income and good standard of living for the artists and their families.
---
Winter in Venice (View profile)
Dalton House, 60 Windsor Avenue, London, SW19 2RR
Tel: 0845 652 1223
Email:
sales@winterinvenice.co.uk
Web:
www.winterinvenice.co.uk


We are award winning designers and manufacturers of high quality bath and body care products, made in Britain.
What is most unique about our brand is our reusable gift packaging bursting with sensuous products for the body, available in a selection of beautiful fragrances.
Each bath or body set consists of luxury toiletries placed inside a gift such as Jewellery Boxes, Hat Boxes, Metal Trugs and many other designs that are inspired to complement your house and garden.
Our toiletries are made using the finest ingredients and include plant extracts, enriched with Vitamin A, E and Pro Vitamin B5. We pride ourselves on our formula which is paraben free and we are against Animal Testing.
At Winter in Venice we care about making each gift truly special. Memorable and re-usable....