Personalised Memento Company (PMC)
Unit 2 Govan Road, Fenton Industrial Estate, Stoke on Trent, Staffordshire ST4 2RS England
Telephone: +44 (0)1782 744900
Fax: +44 (0)1782 747746
Email: sales@personalisedmemento.co.uk
Web: www.personalisedmemento.co.uk
Company Profile:
Supplying nearly 5000 retailers, across independent, high street brands and mail order companies for over a decade, The Personalised Memento Company is the number 1 trade supplier of personalised gifts. PMC offers a full drop ship solution, with every product personalised and shipped from their premises in Stoke-on-Trent, Staffordshire.

Their range of high quality personalised giftware includes slate, ceramic, glass, engraved and licensed gifts. New for 2017 are new ranges of homeware, wooden, ceramic, engraved and alcohol gifts.
Contact Name: Keren Dicken
Product Categories:
Baby/Children, China/glass/ceramics, Christmas products, General giftware, Homeware, Sweets & Treats
---
Product Category: Baby/Children
Product Name: Personalised Dinosaur Breakfast Set
Description: Description: With over a thousand imaginative and fun children's products in their collection, PMC is guaranteed to have the perfect gift for your little one. Adding personalisation to a children's gift adds a lasting appeal, as it is something that can be treasured from childhood into adulthood.

The dinosaur breakfast set is a recent addition to PMC's range. Featuring the adorable dinosaur motif, the whole set can be personalised with a name, making it an ideal Birthday, Naming Day or Christmas gift.
---
Product Category: China/glass/ceramics
Product Name: Engraved Large Hand Cut Little Hearts Diamante Vase with Swarovski Elements
Description: Ceramic and glass gifts are a customer favourite all year round. Personalised using traditional and time-honoured methods, PMC produces a huge range of products, from mugs and breakfast sets, through to baking bowls and clocks.

Our range of Hand Cut Diamante Vases, featuring stunning Swarovski Elements are a perfect gift for any occasion. Engraved with a special message, these vases make a practical gift that will look at home in either a traditional or a modern setting.

---
Product Category: Christmas products
Product Name: Personalised Highland Stag Bauble
Description: Personalised Christmas gifts have become an increasingly popular alternative to traditional gifts in recent years – they stand apart from the piles of socks, chocolates and sweets on Christmas morning! A personalised Christmas gift shows that love and attention has gone into selecting the right gift.

PMC's enormous range of Christmas gifts prove to be a customer favourite year on year. With over 50 distinct ranges across hundreds of products, PMC is proud to be the one stop shop for personalised Christmas gifts. Whether it's a traditional Father Christmas wax candle, or a stylish Highland Stag Ceramic Bauble, you can be sure that PMC has got Christmas covered.

---
Product Category: General giftware
Product Name: Engraved To the Moon and Back... Round Compact
Description: PMC understand that the perfect gift can come in all shapes and sizes. Whether it's a small engraved trinket intended as a 'thank you', or a beautiful charm bracelet for a special birthday, PMC is proud to be the one stop shop for personalised giftware to the trade. With hundreds of exclusive and original designs available – and many available for next day delivery, PMC is at the cutting-edge of the personalised giftware category.

Their 'Moon and Back' range takes the popular phrase and turns it into a unique way to say 'I love you'. The timeless round compact mirror is a best-seller all year round and makes an ideal gift for her. Personalise it with the recipient's name and it's guaranteed to be treasured for years to come.

---
Product Category: Homeware
Product Name: Personalised Any Message Shabby Chic Large Wooden Clock
Description: Description: PMC's team of new product designers are dedicated to bringing unique and unusual giftware to the table, allowing their customers to cherry pick from a range of traditional and modern lines across the homeware and kitchenware ranges.

Their range of practical homeware and kitchenware gifts are available on quick lead times, making them ideal for retailers of all kinds. Their extensive product range has been developed to provide a gift that is suitable for every occasion and taste.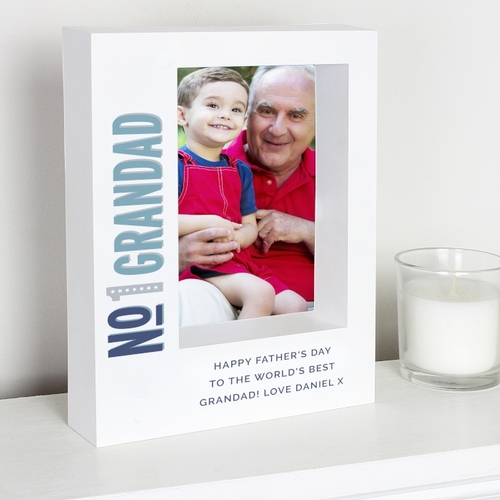 ---
Product Category: Sweets & Treats
Product Name: Personalised Art Deco Striped Pack of 10 Milk Chocolate Bars
Description: Sweet treats make an ideal gift for any occasion and adding personalisation to their favourite snacks is a great way to make a gift more memorable. Whether they prefer delicious chocolate or tasty sweets, PMC's extensive range of designs enable them to cater for every recipient and occasion.

Their chocolate collection comprises of various designs suitable for many occasions and this Art Deco Striped range featured here is perfect for wedding favours! With fast lead times and a consistently reliable service, PMC can be trusted to fulfil orders accurately and on time, even during the busiest periods throughout the year.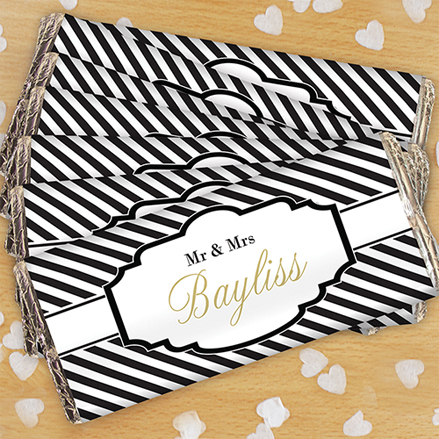 ---