Shared Earth
1 Minster Gates, York, North Yorkshire YO1 7HL United Kingdom
Telephone: 01904 670321
Fax: 01904 623770
Email: sales@sharedearth.co.uk
Web: www.sharedearth-trade.co.uk
Company Profile:
With over 25 years experience in the wholesale gift market, Shared Earth is one of the UK's leading importers and wholesalers of fair trade gifts.

We release hundreds of new designs on a yearly basis. If you're interested in receiving a copy of our latest catalogue please do get in touch.


Contact Name: David Piercy
Product Categories:
Craft products, Design-led gifts, Fashion accessories, General giftware, Interior accessories
---
Product Category: Craft products
Product Name: Spectacle Stand
Description: Our best selling product by far, this quirky shesham wood spectacle stand is a Shared Earth classic that never goes out of style! Fits most styles of glasses.

Size: 60x60x155mm

Shesham wood is part of the rosewood family. It is durable and fast-growing, reaching maturity in 15-20 years (compared to 80-90 years for hardwoods like teak, and 7-10 years for soft woods).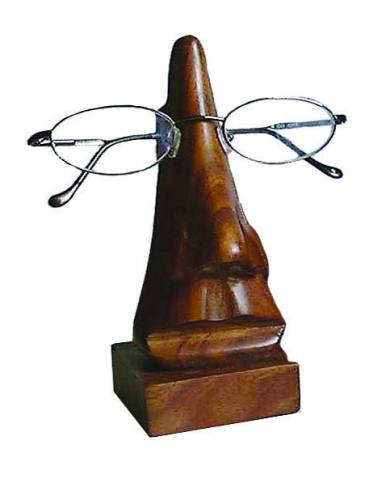 ---
Product Category: Design-led gifts
Product Name: Rocking Chair Coasters
Description: Set of 6 coasters in a rocking chair holder. Made from mango wood with brass handles.

Coaster size: 70x82mm
Rocking chair: 120x155x165mm

This product is supplied to us by ASHA handicrafts, a non-profit group who help thousands of artisans and producer groups across India.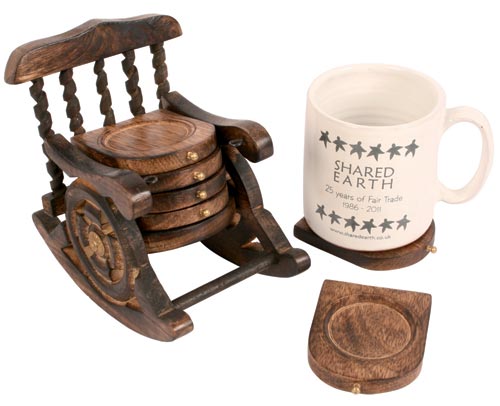 ---
Product Category: Fashion accessories
Product Name: Designer Scarves
Description: Design-led fashion scarves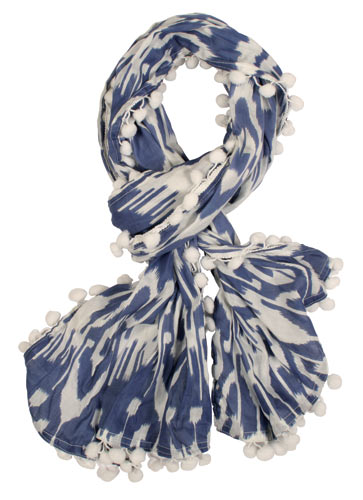 ---
Product Category: General giftware
Product Name: Engraved Paper Weights
Description: Stone paperweight hand-carved with the words "You are not fully dressed until you wear a smile".

Size: 80x65mm

This product is supplied to us by TARA Projects, their stone workshop is in Agra, home of the Taj Mahal.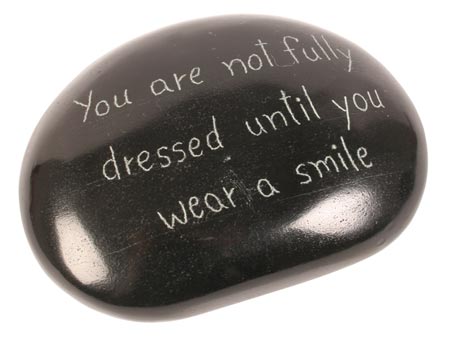 ---
Product Category: Interior accessories
Product Name: Mango Wood Trivet, Tree of Life
Description: Hand carved mango wood trivet with tree of life design.

Diameter: 250mm

Mango trees are farmed for fruit across India. The tree is fast growing, and once they are no longer suitable for commercial fruiting, selling the wood is an additional source of income for the farmers.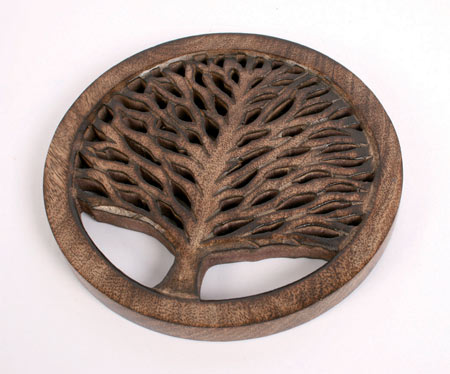 ---